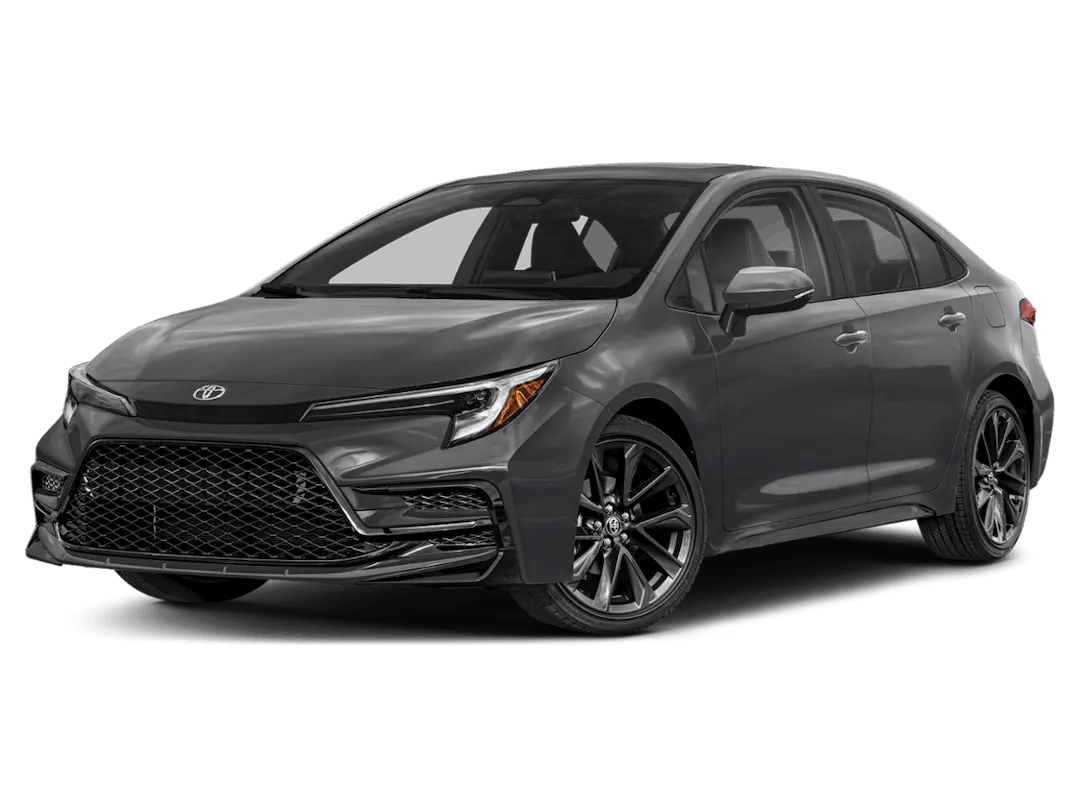 Toyota Corolla Reviews
The Toyota Corolla has been one of America's most trusted compact sedans for over 50 years. Blending reliability, efficiency, value, and everyday usability, it's easy to see the appeal. Here our Toyota experts at Toyota of Portsmouth will provide Corolla reviews and insights to showcase why drivers continue to love this economical sedan.
Overview of the Corolla Lineup
Toyota offers the Corolla in five primary trim levels: L, LE, SE, SE Nightshade Edition, and XLE. There is also the Corolla Hybrid model available in LE and XLE grades. All Corollas come standard with front-wheel drive. Even base L models include features like adaptive cruise control, lane tracing assist, and LED headlights.
As you upgrade trims, the Corolla gains larger wheels, blind spot monitoring, heated front seats, leatherette upholstery, and other amenities. The 139 horsepower four-cylinder engine can be paired with a CVT automatic or 6-speed manual (on certain trims).
Compact Efficiency Meets All-Wheel Drive – The AWD Corolla Hybrid
The AWD Corolla Hybrid is a game-changer in the eco-friendly car segment. This vehicle merges the dependable fuel economy of Toyota's hybrid technology with the confident handling of all-wheel drive. The ride is smooth and quiet, with the electric motor's instant torque making city driving a breeze. The all-wheel drive system adds a layer of security for those unpredictable weather conditions, ensuring you stay grounded when it matters most. With its sleek design and advanced tech, the Corolla Hybrid AWD isn't just about savings at the pump; it's about a well-rounded, responsible driving experience. Perfect for the eco-conscious driver who desires a touch of adventure.
Key Benefits and Strengths of the Corolla
So what are the most common benefits highlighted in Corolla reviews? Here are some standout qualities owners love:
Ultra-high fuel economy - The Corolla Hybrid delivers an EPA-estimated 57 MPG in city driving, while even gas models achieve over 30 MPG combined.
Proven Toyota reliability - Simple, durable powertrains allow the Corolla to easily eclipse 200,000+ miles with proper maintenance.
Standard active safety tech - Toyota Safety Sense 2.0 brings accident avoidance aids like pedestrian/cyclist detection, lane keeping, and full-speed dynamic cruise control.
Easy maneuverability - A tight turning radius and compact dimensions make the Corolla very nimble in city traffic and easy to park.
Spacious interior space - Despite its small footprint, the Corolla offers excellent passenger and cargo room for its class.
Low ownership costs - Gas models require just basic maintenance, and insurance/registration fees are very affordable. The Hybrid has minimal brake wear.
Ideal Usage Cases for the Corolla
The Corolla's stellar gas mileage, nimble handling, and value positioning make it a versatile choice. Here are some of the most popular uses:
Commuters - The Corolla allows racking up commute miles while keeping gas costs minimal. Standard driver aids enhance safety in traffic.
College students - The Corolla offers an affordable, reliable vehicle with excellent fuel efficiency to manage transportation costs.
City dwellers - The Corolla's compact size makes it very city-friendly. Quick acceleration helps navigate urban traffic.
Second vehicles - As a second car for short trips and errands, the Corolla keeps gas bills low while requiring minimal maintenance.
Downsizers - The Corolla provides a more maneuverable, fuel-efficient option for older drivers transitioning from larger vehicles.
Insights from Your Portsmouth Toyota Dealer
As your local Portsmouth-area Toyota dealer, our staff at Toyota of Portsmouth regularly receives Corolla feedback. Here are some of the most common praises we hear from customers:
Eye-catching styling and sharp handling that belie its economical mission

Surprising interior room, even for backseat passengers

Ultra-low ownership costs over years of reliable service

Buttery smooth hybrid drivetrain with Prius-like mileage

Intuitive infotainment and useful driver assistance features

Excellent resale value due to Toyota's reputation for quality
If you're seeking affordable, worry-free transportation with renowned Toyota durability, the Corolla is a winning choice. Stop by Toyota of Portsmouth to experience this perennial best-selling compact yourself!
Back to Parent Page