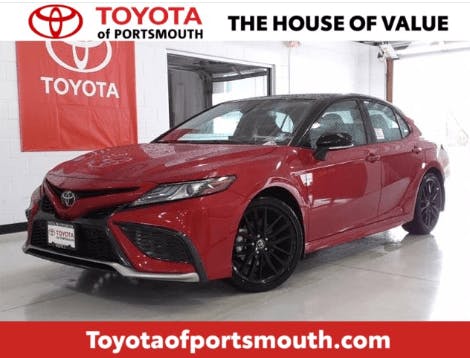 Why Buy Certified Pre-Owned at Toyota of Portsmouth?
When it comes to buying a car, the decision between new and used vehicles can be challenging. However, there's a third option that offers the best of both worlds: Certified Pre-Owned (CPO) Toyotas. In this blog, we'll dive into the numerous advantages of choosing a CPO vehicle from Toyota of Portsmouth and why it could be the perfect option for you.
What is a Certified Pre-Owned Toyota?
A Certified Pre-Owned Toyota is not just any used car; it's a pre-owned vehicle that meets Toyota's stringent certification criteria. To qualify for the CPO program, a Toyota must:
Age: Be no older than seven years
Mileage: Have fewer than 85,000 miles on the odometer
Inspection: Pass a rigorous 160-point quality assurance inspection
This ensures that you're getting a high-quality, reliable vehicle that you can depend on for years to come.
Benefits of a CPO Toyota
Choosing a CPO Toyota comes with a range of perks, including:
Extended Warranty: Enjoy an extended warranty that covers the engine, transmission, and other critical systems.
Roadside Assistance: Benefit from free 24/7 roadside assistance, giving you peace of mind during your travels.
Certified Quality: The 160-point inspection ensures that the car is in excellent condition, providing reliability you can trust.
Financing Options: Toyota of Portsmouth offers competitive financing rates for CPO vehicles, making it easier to afford your dream car.
Don't just take our word for it. Listen to our satisfied customers. Sarah, who recently purchased a CPO RAV4, says, "The extended warranty and the thorough inspection made me feel like I was buying a new car, but at a much lower price." Mark, another happy customer, adds, "The financing options were flexible, and the whole process was seamless."
Why Choose Toyota of Portsmouth for Your CPO Vehicle
At Toyota of Portsmouth, we are committed to delivering an exceptional customer experience. Our selection of Certified Pre-Owned Toyotas is extensive, offering something for every budget and lifestyle. Our friendly and knowledgeable staff are here to guide you through the buying process, from selecting the right model to finalizing financing options. When you choose a CPO vehicle from Toyota of Portsmouth, you're not just buying a car; you're investing in quality and peace of mind.
Certified Pre-Owned Toyotas offer an excellent balance between quality and affordability. With extended warranties, rigorous inspections, and competitive financing options, there's never been a better time to consider a CPO vehicle. Visit Toyota of Portsmouth today to explore our wide selection and take a test drive.
Back to Parent Page